URL : http://hostGK3.biology.tohoku.ac.jp/
We study terrestrial plants and ecosystem mainly by three ecological approaches: interactions of plant individual and population to environment and other organisms, community and ecosystem analyses, and evolutional approach. The responses of plants to environment and other organisms are to be studied mostly based on field studies. The co-existence of multiple species in ecosystems and the mechanisms of maintaining biodiversity are also studied in temperate and tropical forests. The global changes in ecosystem and biodiversity are also within our range of research interests. Evolutional study on plant reproduction is the focus made by theoretical and field analyses.
Forest canopy composed of diverse tree species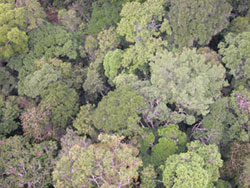 特色・実績
We are mainly conducting research on the evolutionary ecology, reproductive ecology, community ecology and ecosystems of plants. Our studies cover a broad array of themes from physiological mechanisms that support ecological phenomena and the significance of evolutionary ecology to ecosystem functions and service evaluation. In recent years, the response of plants and ecosystems with respect to global environmental changes has become an important issue.
教員紹介
Thesis Titles
Master Degree
Effect of Platypus quercivorus on the forest food chain – From the composition and feeding analysis of hornets –
Statistical analysis of effect of peripheral land use on crop yield
Ph.D. Degree
Projection of local extinction probabilities of tree species in relation to landscape management scenarios. (Regional extinction rate prediction of tree species using landscape management scenarios)
A Student's View
Name
Misaki Ando Master's program, 2nd year 
Undergraduate University and Department
Faculty of Science, Tohoku University
Research Subject
Honeydew excretion pattern and pollinator visiting behavior of plants with multiple sepals

We're all good friends. We use nicknames, eat dinner together and feel right at home at the lab. But the best feature is everyone's individualism! We have hikers, musicians, cooks, etc., etc. We're all a bit strange, that's what makes every day fun!