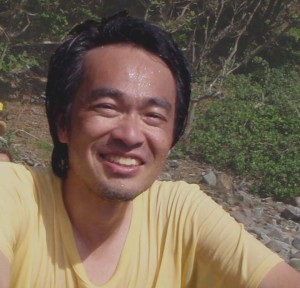 Drawn to the meticulous diversity of life, I have been conducting research to unlock its mysteries and maintain their value. Knowing the mechanisms of ecosystems is important for all of us to live in a better environment. Resolving the mysteries of evolution will also reveal what we are.
When thinking of our future, it is necessary to consider the conservation of biodiversity and sustainable utilization methods. I want my work to contribute even a little bit to a better future for all of us.
経歴

Graduated from the Faculty of Science of The University of Tokyo and completed the doctorate program of the Graduate School of Science thereof (1991)

I assumed my current position after being an assistant at the Faculty of Science of Shizuoka University, then an assistant professor there, and an associate professor at the Graduate School of Life Science of Tohoku University.

著書・論文
所属学会

The Ecological Society of Japan, The Society of Population Ecology, Society of Evolutionary Studies, Japan, Palaeontological Society of Japan, Society for the Study of Evolution, The American Society of Naturalist, The Malacological Society of London, The Society for Conservation Biology

担当講義

Undergraduate: Community ecology, Life Science C, Exercises in Biology, Practical Animal Ecology; Graduate: Conservation Biology
最近の研究について
Along with my basic research theme of understanding biodiversity creation and maintenance mechanisms in various ecosystems in the sea and on land, I am also handling the applied research themes of ecosystem maintenance, exotic species effect alleviation and conservation of scarce species. In addition to empirical research using outdoor field investigation, operational experiments and molecular genetics experiments, I conduct theoretical research using mathematical models.
The following are my recent main research themes:
Speciation by interaction between living things
Evolution of Ogasawara Islands endemic shellfish
Predator/prey and host/parasite co-evolution dynamics
Behavior, evolutionary history and bio-geography of land shellfish
Effects of historical factors on community structure
Extinction process and selectivity
Infiltration and settling process of exotic species
Aggressive exotic species impact evaluation and alleviation
Scarce land shellfish conservation and stock preservation
Development of ecosystem maintenance methods under changing environments
メッセージ
"Enjoy Research" is our laboratory's motto. Creativity and earnestness comes from enjoyment. In order to enjoy yourself and take on new challenges, it is important to for students to conduct research proactively. I hope you will be able to research and study independently and hold lively discussions and cooperate with other researchers. I invite you to direct your research in your own path based on your own free ideas.