Google scholar
https://scholar.google.co.jp/citations?hl=ja&user=udifLuIAAAAJ&view_op=list
I snorkeled for the first time in my life as part of a marine laboratory course when I was an undergrad. I will never forget the bountiful variety and striking beauty of the marine organisms I saw off Aomori's coast. Since then, I have been captivated by sea life and have devoted my research to marine invertebrates.
経歴

| | |
| --- | --- |
| 1992 | Graduated from the Department of Biology, Faculty of Science, Hirosaki University |
| 1997 | Ph.D., The University of Tokyo |
| 1997-2000 | Research Associate, Department of Biotechnology, Faculty of Life Science, Tokyo Institute of Technology |
| 2000-2001 | Visiting Research Associate, Graduate School of Frontier Sciences, The University of Tokyo |
| 2001-2005 | Postdoctoral research Associate, California Institute of Technology |
| 2005 to Present | Associate Professor, Research Center for Marine Biology, Graduate School of Life Sciences, Tohoku University |

著書・論文

Yamazaki A., Kidachi Y., Yamaguchi M., and Minokawa T. (2014)
Larval mesenchyme cell specification in the primitive echinoid occurs independently of the double-negative gate
Development 141:2669-2679

Yamazaki, A., Y. Kidachi and T. Minokawa (2012) "Micromere" formation and expression of endomesoderm regulatory genes during embryogenesis of the primitive echinoid Prionocidaris baculosa
Development, Growth and Differentiation 54: 566-578

Minemura K., M. Yamaguchi and T. Minokawa (2009) Evolutionary modification of T-brain (tbr) expression patterns in sand dollar
Gene Expression Patterns. 9 468-474.

Iijima, M., Y. Ishizuka, Y. Nakajima, S. Amemiya, and T. Minokawa (2009) Evolutionary modification of specification for the endomesoderm in the direct developing echinoid Peronella japonica: loss of the endomesoderm-inducing signal originating from micromeres
Development, Genes and Evolution. 219:235-247.

Nakata, H. and T. Minokawa (2009) Expression patterns of wnt8 orthologs in two sand dollar species with different developmental modes
Gene Expression Patterns. 9 152-157.

所属学会

The Zoological Society of Japan, Japanese Society of Developmental Biologists

担当講義

Marine Biology, Evolutionary Developmental Biology
最近の研究について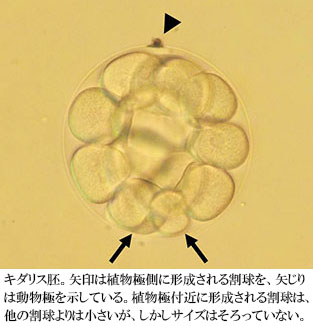 Photo 1: Cidaroida 16-cell stage embryo. The arrows point to the smaller blastomeres formed in the vegetal pole, and the arrowhead indicates the animal pole.
I am interested in the evolution and diversity of the developmental mechanism. For the past several years, our group has conducted research focused on the differences between primitive and derivative-type sea urchins, in particular the evolution of micromere formation and functions. Derivative-type sea urchins form four micromeres of the same size in the vegetal pole at the 16-cell stage. On the other hand, little was known about the micromere formation of primitive sea urchins (Cidaroida). We studied Cidaroida embryonic development in detail and found that in this organism, the four same-size micromeres do not form (Photo 1), and the endomesoderm specification mechanism occurring at vegetal hemisphere is vastly different from that of derivative-type sea urchins. Using comparative methodologies, we have been studying the evolutionary changes of the sea urchin developmental mechanism. (Photo 1)
メッセージ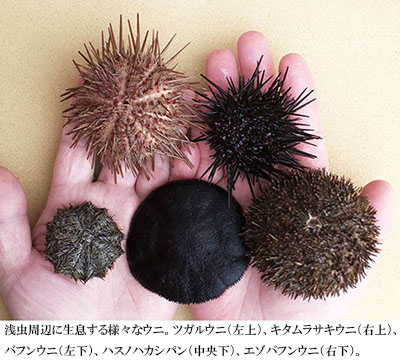 Photo 2: Various sea urchins living in the vicinity of Asamushi: Glyptocidaris crenularis (top left), Strongylocentrotus nudus (top right), Hemicentrotus pulcherrimus (bottom left), Scaphechinus mirabilis (middle bottom), and Strongylocentrotus intermedius (bottom right).
There are variations in the developmental mechanisms of different kinds of sea urchins. These differences are the result of over 200 million years of diversification and evolution. The sea urchins are therefore favorable research subjects in evolutionary development biology. We are conducting research on the evolution of the developmental mechanism using various sea urchins living in the vicinity of Asamushi (Photo 2).