ResearchGate
https://www.researchgate.net/profile/Toshiyuki_Takai 
Introduction of our laboratory
Harnessing our various backgrounds in medical sciences, pharmaceutical sciences, engineering, agricultural sciences and immunology, and working together with clinical researchers at Tohoku University Hospital as well as at Graduate School of Medicine on the Seiryo Campus, we are aiming at understanding the mechanisms by which we discriminate between self and non-self and developing novel strategies against immune disorders, through the detailed studies on immunoregulatory receptors such as Fc receptors and multi-ligand leukocyte immunoglobulin-like receptors expressed on immune cells.
経歴

Graduated, Faculty of Pharmaceutical Sciences, Okayama University, 1980. Completed doctoral course (PhD), Graduate School of Medicine, Kyoto University, 1986. Researcher, National Cardiovascular Center Research Institute. Assistant Professor, Lecturer, and Associate Professor; Faculty of Engineering; Okayama University. Visiting Investigator, Memorial Sloan-Kettering Cancer Center, New York. Current position since 1997.

著書・論文

Kimura T, Endo S, Inui M, Saitoh S-i, Miyake K, Takai T. Endoplasmic protein Nogo-B (RTN4-B) interacts with GRAMD4 and regulates TLR9-mediated innate immune responses. J. Immunol. in press. 

Inui M, Tazawa K, Kishi Y, Takai T. Platelets convert peripheral blood circulating monocytes to regulatory cells via immunoglobulin G and activating-type Fcgamma receptors. BMC Immunol. in press.

Inui M, Hirota S, Hirano K, Fujii H, Sugahara-Tobinai A, Ishii T, Harigae H, Takai T. Human CD43+ B cells are closely related not only to memory B cells phenotypically but also to plasmablasts developmentally in healthy individuals. Int Immunol. 2015 Mar 5. pii: dxv009.

Kanari Y, Sugahara–Tobinai A, Takahashi H, Inui M, Nakamura A, Hirose S, Takai T. Dichotomy in the FcγRIIB deficiency and autoimmune-prone SLAM haplotype clarifies the roles of the Fc receptor in development of autoantibodies and glomerulonephritis. BMC Immunol 15:47 (2014)

Mitsuhashi Y, Nakamura A, Endo S, Takeda K, Yabe-Wada T, Nukiwa T, Takai T. Regulation of plasmacytoid dendritic cell responses by PIR-B. Blood 120: 3256-9. 2012.

Tanaka J, Hirano K, Sakamoto Y, Sugahara-Tobinai A, Endo S, Ito-Matsuoka Y, Nakano A, Inui M, Nitschke L, Takai T. Intravenous immunoglobulin suppresses IL-10 production by activated B cells in vitro. Open J. Immunol. 2(4): 149-160, 2012.

Matsushita H, Endo S, Kobayashi E, Sakamoto Y, Kobayashi K, Kitaguchi K, Kuroki K, Söderhäll A, Maenaka K, Nakamura A, Strittmatter SM, Takai T. Differential but competitive binding of Nogo protein and class I major histocompatibility complex (MHCI) to the PIR-B ectodomain provides an inhibition of cells. J. Biol. Chem. 286(29):25739-47, 2011.

Arita K, Endo S, Kaifu T, Kitaguchi K, Nakamura A, Ohmori H, Kohu K, Satake M, Takai T. Transcriptional activation of the Pirb gene in B cells by PU.1 and Runx3. J. Immunol. 186(12): 7050-9, 2011.

Kubo T, Uchida Y, Watanabe Y, et al.Augmented TLR9-induced Btk activation in PIR-B-deficient B-1 cells provokes excessive autoantibody production and autoimmunity. J. Exp. Med. 206:1971-82 (2009)

Imada M, Masuda M, Satoh R, et al.Ectopically expressed PIR-B on T cells constitutively binds to MHC class I and attenuates T helper type 1 responses.Int. Immu. 21:1151-61 (2009)

Inui M, Kikuchi Y, Aoki N, et al.Signal adaptor DAP10 associates with MDL-1 and triggers osteoclastogenesis in cooperation with DAP12. Proc. Natl. Acad. Sci. USA 106: 4816-21 (2009)

Endo S, Sakamoto Y, Nakamura A, Takai T. Regulation of cytotoxic T lymphocyte triggering by PIR-B on dendritic cells. Proc. Natl. Acad. Sci. USA 105: 14515-20 (2008)

Nakamura A, Kobayashi E, Takai T. Exacerbated graft-versus-host disease in Pirb-/- mice. Nat. Immunol. 5: 623-629 (2004)

Koga T, Inui M, Inoue K, et al.Costimulatory signals mediated by the ITAM motif cooperate with RANKL for bone homeostasis. Nature 428: 758-763 (2004)

所属学会

Japanese Society for Immunology, Japanese Society of Allergology, Japanese Society of Inflammation and Regeneration, Molecular Biology Society of Japan, Japanese Biochemical Society, American Association of Immunologists

担当講義

Immunology, School of Medicine; Regenerative Dentistry/Medicine, School of Dentistry; Aging Biology, Faculty of Science; Immunology, Graduate School of Medicine; Cell Biology, Graduate School of Life Sciences.
最近の研究について

Binding of class I MHC molecules (MHCI) to an immune-inhibitory receptor, PIR-B, expressed on B cells and myeloid cells provides constitutive cellular inhibition, thus ensuring peripheral tolerance. Recent unexpected findings in central nervous system (CNS) pointed to a novel inhibitory role of PIR-B in neurite regeneration through binding to three axonal outgrowth inhibitors of myelin including Neuronal outgrowth inhibitory protein or Nogo. Thus, it becomes interesting to determine whether the actions of the inhibitory myelin proteins and MHCI could coexist independently or be mutually exclusive as to the PIR-B-mediated immune and neural cell inhibition. We elucidated the competition of Nogo- and MHCI-mediated inhibition where they coexist. Kinetic analyses of Nogo and MHCI binding to the whole or a part of the recombinant PIR-B ectodomain revealed that PIR-B binds with higher affinity to Nogo than MHCI and that the MHCI binding only occurred with the N-terminal domains of PIR-B, whereas the Nogo binding occurred with either the N- or C-terminal ectodomains. Kinetic tests indicated that the binding to PIR-B of Nogo and MHCI was competitive. Both endogenous and exogenous Nogo intensified the PIR-B-mediated suppression of interleukin-6 release from lipopolysaccharide-stimulated wild-type, but not PIR-B-deficient, cultured mast cells, indicating that PIR-B mediates the Nogo-induced inhibition. We proposed a novel mechanism by which PIR-B-mediated regulation is achieved differentially but competitively via MHCI and Nogo in cells of the immune system, which could also be critical in CNS.
メッセージ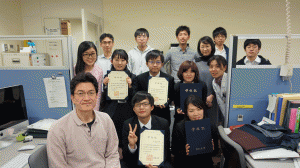 We are studying molecular nature of immunoregulatory receptors such as Fc receptors and multi-lignad leukocyte immunoglobulin-like receptors in health and disease. Our particular interest is now in elucidating the molecular mechanism of development of autoreactive B cells and generation of autoantibodies in various autoimmune diseases in humans as well as in mouse models, and in regulating the deregulated B cells by generating novel strategies. Students, who wish to collaborate with us, will be welcome.