Neuro Global国際共同大学院プログラムでは、下記のとおり講演会をハイブリッド形式で開催いたします。
ご興味のある方はどなたでも参加可能です。詳細は添付ファイルをご覧ください。
Neuro Global Hybrid Seminar will be held on the following date.
Everyone is welcome to attend. We look forward to your participation.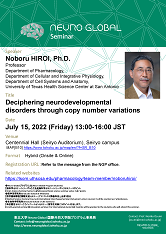 使用言語:英語
Language: English
---
・演題(Title): Deciphering neurodevelopmental disorders through copy number variations
・講演者(Speaker):Noboru HIROI, Ph.D.
 ProfessorDepartment of Pharmacology, Department of Cellular and Integrative Physiology,
 Department of Cell Systems and Anatomy, University of Texas Health Science Center at San Antonio
・関連ウェブサイト(Related website):
https://lsom.uthscsa.edu/pharmacology/team-member/noboruhiroi/
---
・日時(Date/Time):2022年7月15日(金)13:00-16:00 JST
・場所(Venue):星陵キャンパス 星陵オーディトリアム 2階 講堂
 Centennial Hall (SeiryoAuditorium), Seiryocampus
 地図 MAP [B10] https://www.tohoku.ac.jp/map/en/?f=SR_B10
・形式(Format):ハイブリッド式(会場参加・オンライン参加)
 hybrid lecture (on-site and online)
・要事前登録 (Registration):
 東北大学Neuro Global国際共同大学院プログラム事務局までお問合せください。
 参加方法をお知らせいたします。
 Please contact the Tohoku University Neuro Global Program Office.
 We will inform you how to register.
---
●Neuro Globalプログラム生(Neuro Global Program Students)
【脳科学セミナーシリーズEx】/【先進脳科学セミナーシリーズEx】セミナー 2ポイント
【Brain Science Seminar Series Ex】/【Advanced brain science seminar series Ex2point
●生命科学研究科(Graduate School of Life Sciences)
【単位認定セミナー】【イノベーションセミナー(留学生対象)】3ポイント
【Credit-granted seminar】/【Innovation seminar (For International students)】3 point
*セミナー開始後30分を過ぎて参加される場合は、ポイントが付与できなくなりますので、ご注意ください。
*In case you participate in the seminar more than 30 minutes later than scheduled, you can't get the point.